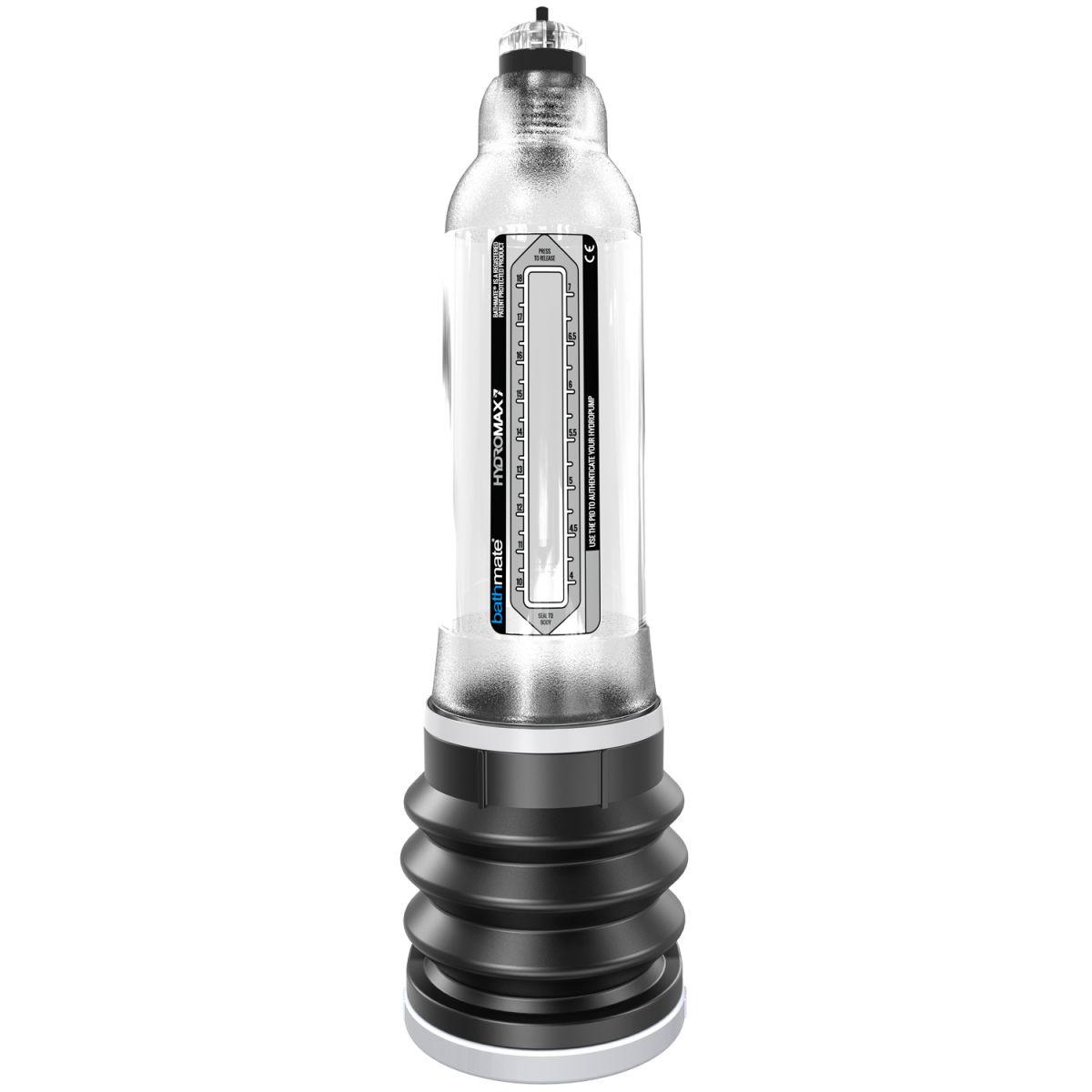 Click here to recommend this product to a friend & get £5 reward points
Send this to a friend
Enter your friend's email address and, if you want, include a message and we'll send your friend an email about this product.
You will earn

150

reward points with this purchase
Product tabs
Bathmate Hydromax7 is the new and improved version of the Hydro7 penis pump.
Hydromax, like the other Bathmate penis pumps, is intended for use in water and developed to increase the size of your penis. Because of the water pressure created in the pump, Bathmate establishes a much greater vacuum around the penis than average penis pumps.
What makes Hydromax extra effective is that it can create 35% more of a vacuum than the other Bathmate pumps. This is thanks to, among other things, the removable soft "foam-like" ring which sits at the bottom of the ring. This ring means that the pump sits perfectly around your penis against your body, making it easier to adjust the pump to just the proper angle. 
How to use the Bathmate Hydromax Penis pump:
- Make sure that the soft ring at the bottom of the pump is firmly connected to the pump.
- Put the small grey tip at the end of the pump in the locked position and fill the pump with water.
- While in the bath, relax and place the pump around the penis.
- With the pump at an upward angle, unlock the grey tip and start pumping.
- Pump until the lower black part of the pump is so compacted that you can not pump anymore.
- For the best result, release the pressure after a few minutes and repeat it all 2-3 times over a period of 10-15 minutes. 
* It is not possible to achieve permanent enlargement of a penis with a penis pump, but if you use it often, for example before sex, you will notice the benefits. Many men have noticed intense sensations when masturbating or playing with a partner after using a penis pump.
MATERIAL: Polycarbonate (plastic) and rubber.
PHTHALATE-FREE: Yes.
WATERPROOF: Yes.
SUITABLE FOR: Penis size of 19 cm with a diameter of max. 5.08 cm (erect).
LENGTH: 24.8 cm internally.
DIAMETER: 5.7 cm internally.
CIRCUMFERENCE: 17.9 cm internally.
Reviews (5)
raiting star
raiting star
raiting star
raiting star
raiting star
What a saver comparing £100 elsewhere.
raiting star
raiting star
raiting star
raiting star
raiting star
I have had my bathmate for a while now and it never seems to disappoint. The hydro suction it creates is both, soothing as well as stimulating. The bathmate increased not only the girth but also the length and production. If a man has an issue with his penis size, he wont have issues any longer.
raiting star
raiting star
raiting star
raiting star
raiting star
Been looking at it for ages so I thought sod it I'll give it a go, and from the first time I used it my wife noticed a difference, its been two weeks now and my wife said the length has improved and the girth so I'm really happy with the progress
raiting star
raiting star
raiting star
raiting star
raiting star
So I ended up getting the hydromax 7 after being unsure what one to get due to having a 7 inch pipe. Anyway I'm glad I did because its actually longer than 7 inch and luckily so because I'm pumping 7 1/2 inch at the moment. It will probably go to just over 8 inch before ur pipe gets sucked out the end. Girth wise I've still got a small amount of space but I'm guessing that my pipes not gonna get alot bigger in girth. Even if it doesnt give u a bigger pipe it will stretch it to its maximum size so it's a confidence boost for example I'd always say I have a 7 incher but 7 and half sounds much better lol
raiting star
raiting star
raiting star
raiting star
raiting star
It may cost a pretty penny but it is certainly worth. The pump can be incorporated into your normal bath/ shower routine which is really helpful. The quality of the pump is also really good, it has a solid feeling and does not feel cheap at all. As for gains, it seems to do wonders for girth. I've gained nearly half an inch since using it. Just make sure you follow the workout instructions and do not pump too much.