Click here to recommend this product to a friend & get £5 reward points
Send this to a friend
Enter your friend's email address and, if you want, include a message and we'll send your friend an email about this product.
You will earn

100

reward points with this purchase
Product tabs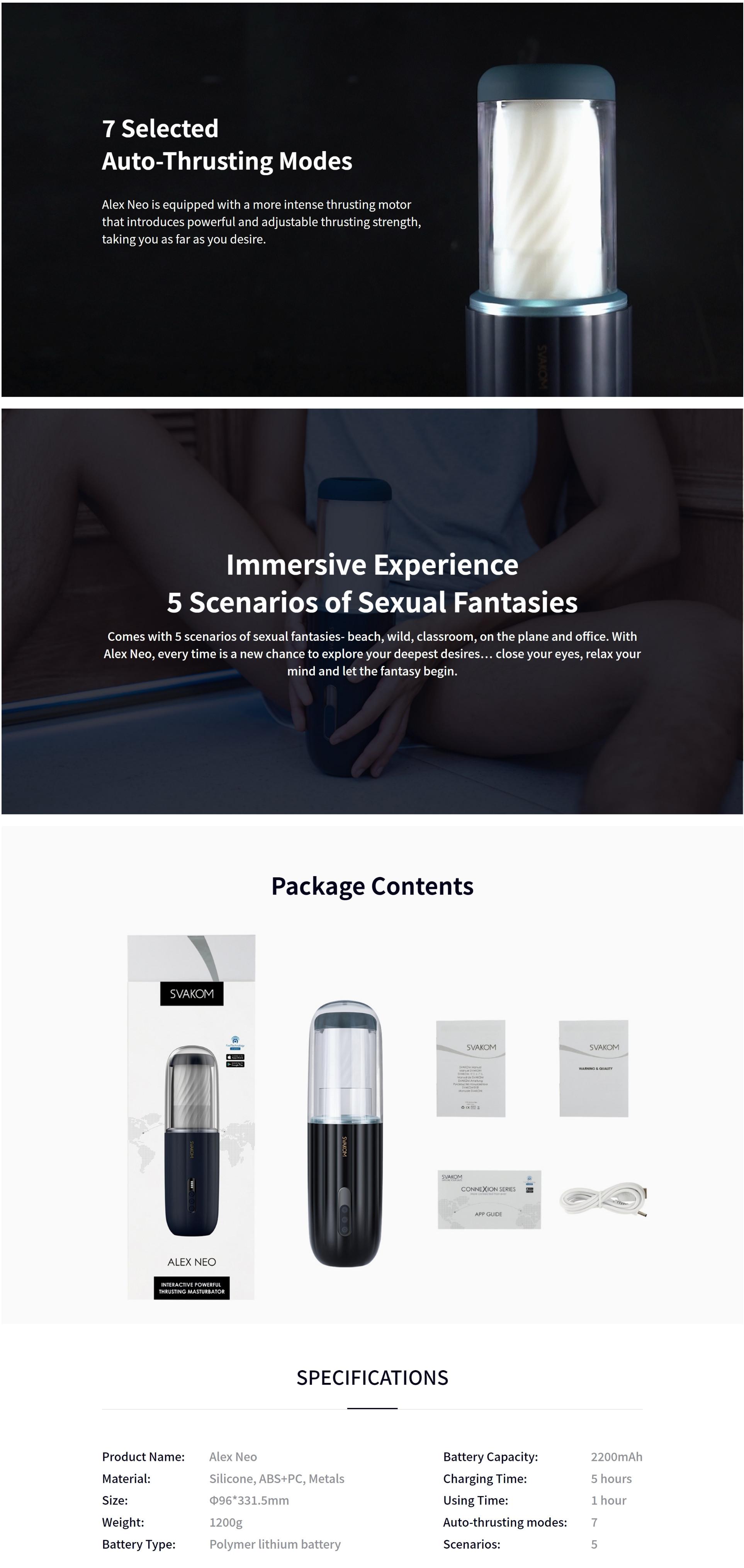 Realize your hottest fantasies with the Svakom Alex Thrusting Masturbator.
Sit back and let the machine do all the work for you, close your eyes and immerse yourself in one of the five sexual fantasy sound scenarios. Why not, for example, take a walk on the beach and listen to a hot woman moaning and talking to you as the waves lap against the shore. The machine's complex and soft sleeve makes the feeling extra intense and realistic.
The machine is powerful and takes good care of your penis with its seven adjustable thrust modes – so its battery time of one hour seems slightly optimistic.
There is a speaker at the bottom of the machine and an AUX input at the rear if you would rather use headphones. 
The Svakom Alex Thrusting Masturbator is 33 cm long and has a diameter of 3.5 cm. Its sleeve is scientifically designed to perfectly fit all penis sizes.
The machine is rechargeable, and a USB charger cable is included.
MATERIAL: ABS plastic and TPE.
SIZE: Fits most men.
FULL LENGTH: 33 cm.
DEPTH: app. 14 cm.
INNER DIAMETER: app. 3.5 cm.
WEIGHT: 1200 g.
BATTERY: Rechargeable (USB cable included).
PATTERNS: 7 settings.
AUDIO SCENARIOS: 5 different.
INCLUDED: USB charger cable.
Reviews (3)
raiting star
raiting star
raiting star
raiting star
raiting star
£45 cheaper than lovehoney makes me a very happy customer!
raiting star
raiting star
raiting star
raiting star
raiting star
This was my venture into this type of toy, normally a fleshlight or similar style of toy was my go to toy. I was a little anxious as there were very few reviews for this toy on any site .and when you are spending your hard earned cash it needs to do wat it says. Well I love this toy !! It is quite heavy but it's very well made and not too loud. The functions are great and make for lots of variations. Battery life is superb. The weight of this toy means it doesn't jump around and you can go hands free if you rest it against something. Try it with a condom and lots of lube, boy does this thing suck as it thrusts.. Well worth having and I cant wait untill these guys launch something else
raiting star
raiting star
raiting star
raiting star
raiting star
Being quite inexperienced when it comes to male products this is the first male toy I ever bought, and wow I'm not disappointed! It works fine to use the toy without the app on itself. But I really prefer to use it with the app, it takes a little bit of time to find all the functions, but for me, the main function is the video interactive part, you go to the category "interactive" on your preferred website and then click "sync with interactive toy" and scan the QR code with the app. The Masturbator then actually moves at the same speed as in the video! I have noticed that some videos work better than others. Overall a fun toy!