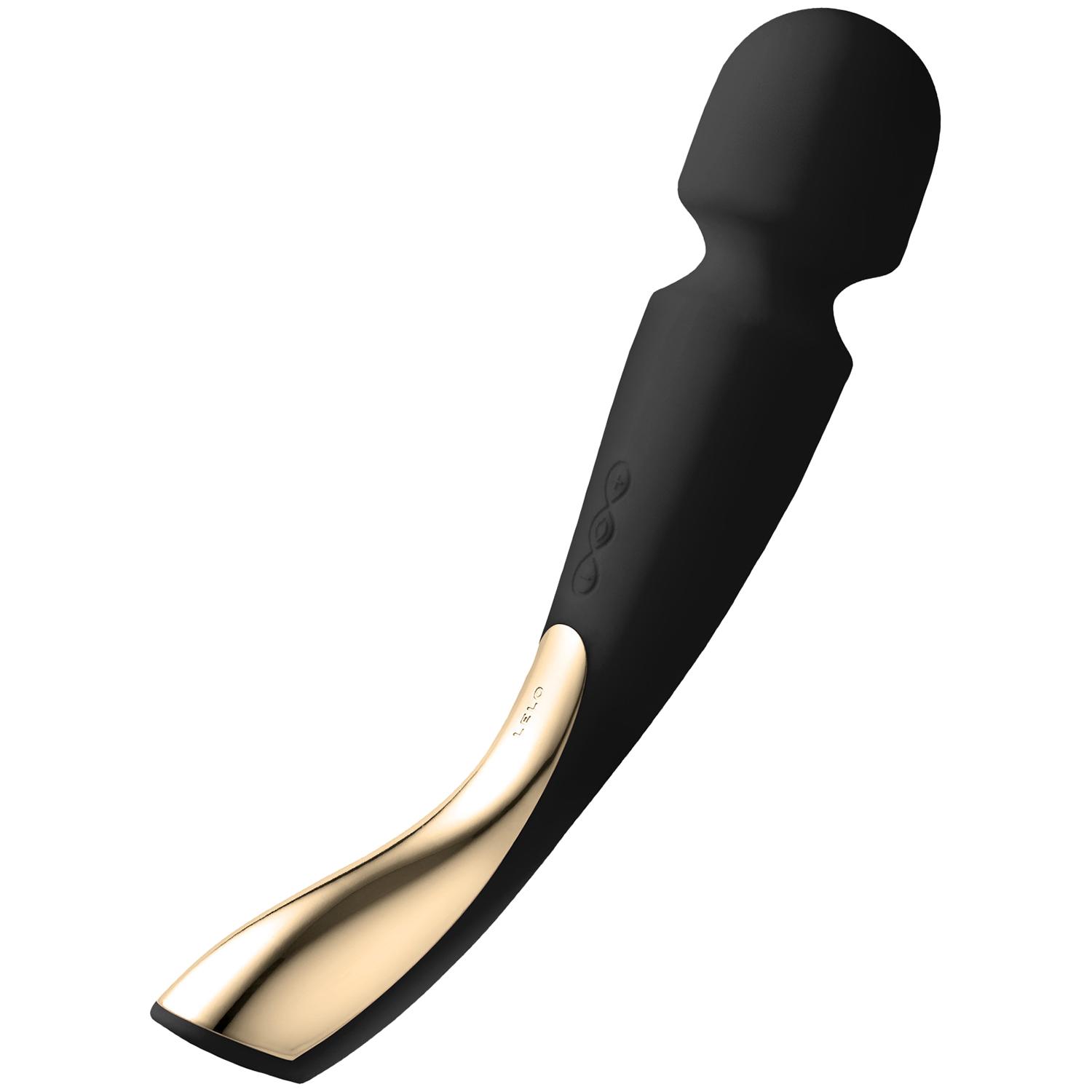 Click here to recommend this product to a friend & get £5 reward points
Send this to a friend
Enter your friend's email address and, if you want, include a message and we'll send your friend an email about this product.
You will earn

130

reward points with this purchase
Product tabs
Treat yourself with the luxurious, upgraded Smart Wand 2, which boasts a stronger motor with additional vibration patterns, a steadier handle, and a longer charge. Use the rumbling vibrations on your external pleasure spots for dizzying orgasms or for relaxing body massage.
The wand is coated with soft, velvety silicone with an elegant, metallic-colored plate on the handle. Apply a drop of water-based lube to make it glide effortlessly on your skin. Unlike most full-sized magic wands, the Smart Wand 2 is waterproof, so you can also enjoy it in the shower or bath. 
Control its 10 vibration patterns and 10 speeds using the intuitive buttons on the side. The wand is rechargeable with the included USB cable for up to 4 hours of enjoyment. The box also contains a satin pouch for discreet storage.
Pro tip! You can use magic wand accessories to enjoy the wand's powerful vibrations internally. Choose an accessory that fits the 5.8 cm head diameter.
MATERIAL: Silicone, PC, and ABS plastic.
ALLERGENS: Free of phthalates and latex.
WATERPROOF: Yes.
LENGTH: 30 cm.
HEAD DIAMETER: 5.8 cm.
POWER TYPE: Rechargeable (USB cable included).
VIBRATIONS: 10 patterns, 10 speeds.
FULL CHARGE: 150 min.
PLAYTIME: Up to 4 hours.
LUBE RECOMMENDATION: Water-based.
INCLUDED: Satin storage pouch and 5 ml lube sample.
Reviews (4)
raiting star
raiting star
raiting star
raiting star
raiting star
This vibe did not disappoint ! Velvety feel, comfortable handle, many vibration patterns including a few that could rattle pictures off the walls! My hubby and I enjoy using toys together and this one is our new favorite for sure
raiting star
raiting star
raiting star
raiting star
raiting star
It turns me on when I look at it. It makes me shiver when I touch it. It drives me crazy when it stimulates me. It has become my best friend and it is in my drawer next to my bed. The curve does the trick when I hold the toy. It is fun. Love it!
raiting star
raiting star
raiting star
raiting star
raiting star
I decided to treat myself with an expensive toy for once, and wow! It was 100% worth the money I spent. The controls are easy to use, it's comfortable to hold, and the vibration options are great. The vibration strength is also amazing. I have been using vibrators for years and I don't even need the higher half of the strength settings. I can imagine the higher settings would be for if you were to use this as a regular body massager. The only downside I could see with this toy is that it isn't quiet, especially at higher settings. But if that's not an issue for you, I'd highly recommend it to anyone looking for a high-end wand.
raiting star
raiting star
raiting star
raiting star
raiting star
A lelo fan here. Amazing price really. Checked other lelo products and the prices are really unbeatable. Will come back for more.