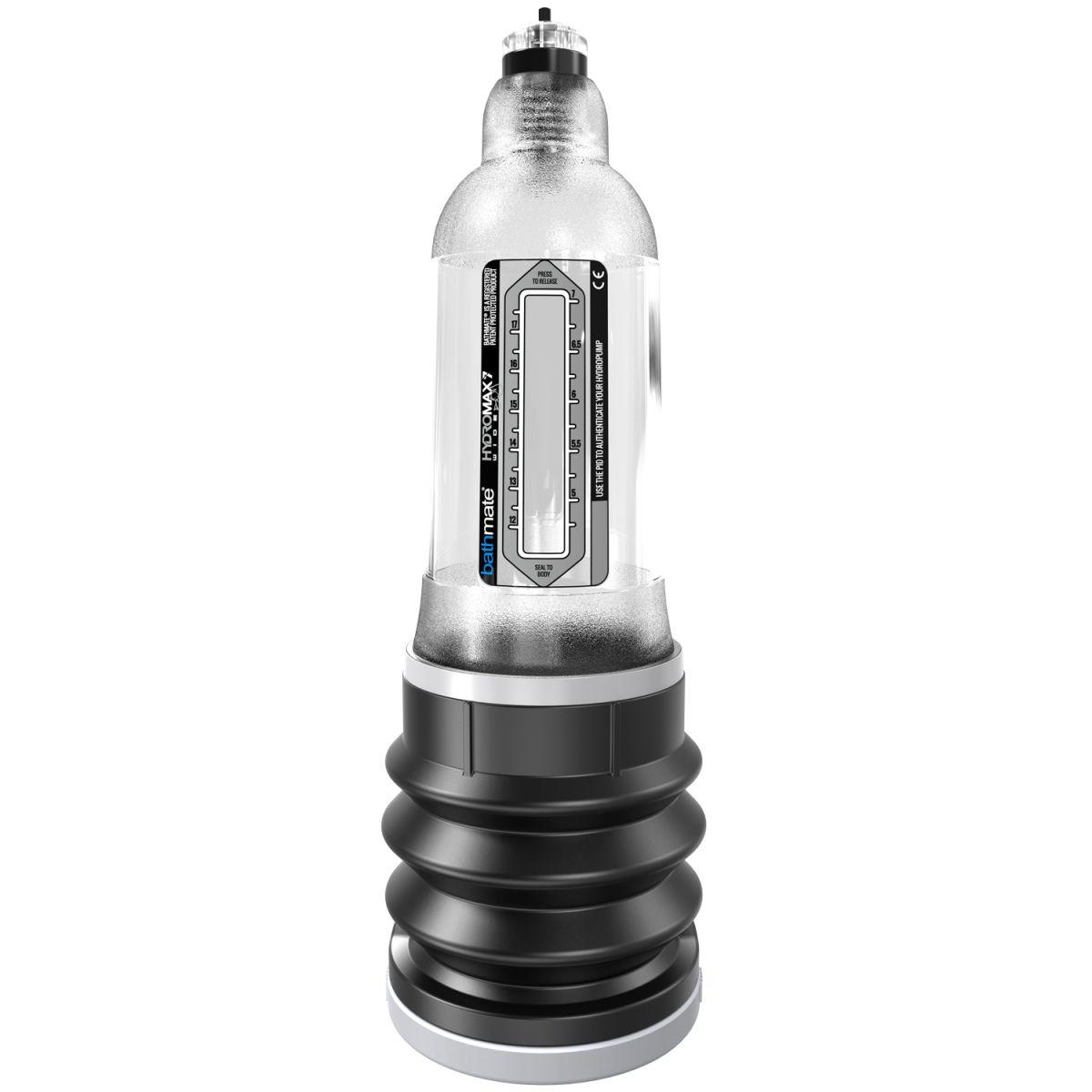 Click here to recommend this product to a friend & get £5 reward points
Send this to a friend
Enter your friend's email address and, if you want, include a message and we'll send your friend an email about this product.
You will earn

160

reward points with this purchase
Product tabs
Do you want the best value for your money when it comes to increasing the circumference of your penis? Then the Bathmate Hydromax7 Wide Boy is the answer.
Your penis has more potential to increase in circumference than in length, and many experiences growing too wide for their other penis pump, without being able to utilize the extra length. Here the Wide Boy is ideal, as there is lots of space to grow in width.
Hydromax is used in water where the combination of vacuum and water pressure creates a temporary penis enlargement
How to use the Bathmate Hydromax7 Wide Boy Penis Pump:
- Make sure the soft ring at the lowest part of the pump is firmly attached to the pump.
- Put the small grey tip at the end of the pump in the locked position and fill the pump with water.
- While in the shower, relax and place the pump around your penis.
- With the pump at an upward-facing angle, unlock the grey tip and start with pumping.
- Pump until the lower black part of the pump is so compressed that you are unable to continue pumping.
- For the best result, release pressure after a couple of minutes and repeat the whole process 2–3 times during a 10–15 minute period.  
* It's not possible to create a permanent enlargement of a penis with a penis pump, but if you use it often and, for instance, before sex, you will experience a good effect. Many men also achieve a more intense sensation during masturbation and sexual intercourse after using the penis pump.
MATERIAL: Polycarbonate (plastic) and rubber.
PHTHALATE-FREE: Yes.
WATERPROOF: Yes.
FITS: Penis sizes up to 19 cm with a diameter of up to 6.2 cm (erect).
INTERNAL LENGTH: 24.8 cm.
INTERNAL DIAMETER: 6.2 cm.
INTERNAL CIRCUMFERENCE: 19.5 cm.
Reviews (3)
raiting star
raiting star
raiting star
raiting star
raiting star
I bought this Bathmate, not knowing what to expect but hoping for something good. Ill tell you right now. It did not disappoint. The water actually allows you to get to a higher pressure without feeling that pain threshold that is so common to air pressure penis pumps. This is definitely worth the investment. The sensations are stimulating and I have seen an increase in girth for sure. Consistency is key.
raiting star
raiting star
raiting star
raiting star
raiting star
Fast delivery and ease of use right out of the box. Looking forward to long term use of this product. Thanks.
raiting star
raiting star
raiting star
raiting star
raiting star
This will surely accomplish the task.It's the right size, so it's easy to manage in different places in the bedroom.The material is very soft and delicate, and it's very powerful.The Settings are wide, easy to use, and must be to your liking.Me my self and I, like it very much.Buy it.